The doorbell rings and there is someone at the door, and you don't know who it is.  You will have to leave your work and attend to them at the door or through a window if one is available next to the door.  This can sometimes pose a threat or risk to you and your loved ones.
There is nothing more important than having a good, safe, and secure home for your loved ones and yourselves.  Providing for your family and protecting it is of utmost importance to you.  It is not uncommon for people to keep thinking if everything is alright back home while they are at work.  The thought of not having locked the door properly can send us into anxiety mode.
Advances in technology have captured all fields and walks of life.  We are now more dependent on technology than in the entire history of our human race.  But then if we have the technology why not use it?
With the advent of video door phones, you can rest assured that there is something that keeps a constant vigil to protect your home. The old traditional way of hiring a security guard or keeping a watchdog is a thing of the past if you want to adopt technology as a security measure.
Besides being comparatively affordable, it provides a plethora of benefits that make it worth installing at your home for enhanced security.  To make it clearer for you as to why you should install a Video Door Phone let us go through what it is, what are the components, and their benefits.
With the Video Door Phone, you can see who is at the door and speak with them through an indoor display unit of the system.  You can decide if you should open the door or not based on the person and their purpose of visit.
A Video Door Phone can also access your door's electronic locking system and thereby enables you to give that person entry into the home from the comfort of your room.  Once the person enters the home, the door gets locked once again.
They are equipped with a display screen, speaker and mic system, and an in-built or external camera linked to the system.
Components of a Video Door Phone
There are mainly two units of a Video Door Phone.  They are:
Indoor Display Unit – It is a Video Screen monitoring system with a TFT or LCD screen, speaker, microphone, and SD memory (optional)
Outdoor Station Unit – It consists of a doorbell, speaker, microphone, in-built camera with a night vision facility, or external cameras linked to the Indoor Display Unit.
When a visitor rings the doorbell, the image of the visitor can be seen on the display of the indoor unit. The in-built cameras come with night vision and a two-way audio communication system. The night vision feature makes it convenient to spot visitors or intruders at night in the dim light and the indoor display unit can adjust the image of the visitor by controls in them i.e. increasing or decreasing brightness and contrast for better visibility of the visitor's face.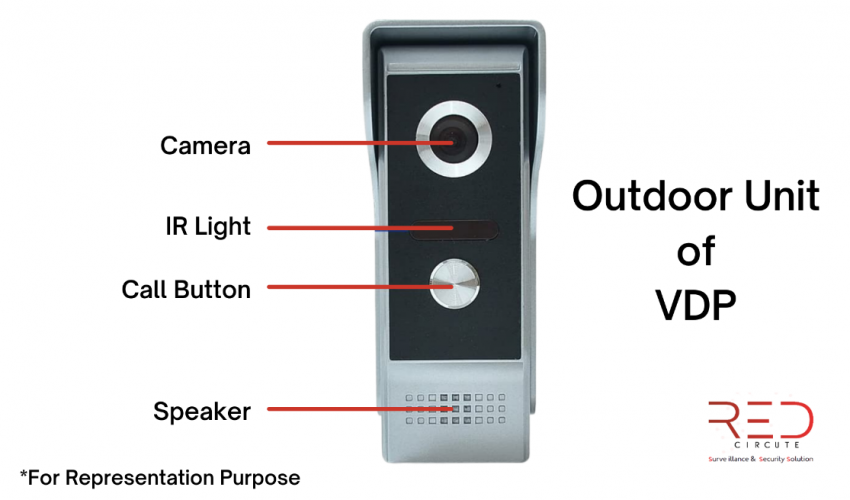 Why you should install a Video Door Phone?
You have gone through the various benefits of installing a VDP in your home.  Below are a few more reasons as to why installing a VDP in your home will give you the needed extra layer of security and peace of mind when away from home.
This if, of course, the first and most important reason to install a VDP.  It ensures the safety and security of your family, your valuables and the home as a whole. This enables you to see and communicate with the visitor without having to open the door.  You can establish the reason for their visit and depending on the purpose, you might give them access to come inside.  This is a very important feature of the VDP security system.
There are times when you are out on a vacation with the family.  You can't depend on your neighbors to overlook your home.  You need not worry if you have installed a VDP system at home.  This system ensures smart home surveillance and monitoring.  If they are coupled with extra security devices like motion detectors and CCTV with remote viewing apps, it allows you to keep an eye on your home 24×7 from anywhere in the world without you being physically present there.
With the option of connecting multiple display units indoors, you have the luxury of answering the door phone whether you're in your kitchen, living room, bed room, or the terrace of your home.  You can answer your door phone through your smart phones too.  You will be notified via your phone about the visitor at the door.  You can either let them in or ask them to move out.
Connected and Smart Homes
A video door phone can be easily integrated with your other existing home security systems.  This makes home monitoring absolutely easy.  You can configure them to work as a single unit.  If you have CCTV cameras, their input can be signaled to the Indoor Unit and you can see the visitor through it.  Since you're wirelessly connected to these home automation devices, you can get a live video and audio feed on your smartphones, tablets, laptops, or your PCs.  Access can be shared with friends and relatives in some cases and it is convenient to use.
The latest video door phone systems are enabled with storage devices which can capture, store and date-stamp pictures.  This ensures easy access to the recordings and get proof of any unauthorized attempts to gain entry. This is very useful in our modern society where we have many visitors such as postman, courier boys, food delivery partners, salesmen, etc.
Installing a video door phone system is an easy process.  It does not require any change to the existing construction or too much wiring.  Cables can be inserted into pipes and these can be clamped to walls so that cables are not visible.  It is relatively much easier to install in a new on-going construction home.  Newer VDP designs add to the aesthetics of your home entrance.
Why choose Red Circute India Pvt Ltd?
Expertise in installing VDPs
Excellent products
Excellent customer service
Highly recommended System Integrator in Bengaluru
Budget friendly
Free consultation
How can you install a VDP at your home or office?
Safety and security means that you are well prepared for unforeseen circumstances.  The cost of regretting for the loss of valuables or life is far greater than installing a VDP at home.  The safety of our home and our loved ones is of paramount for all of us.
Red Circute India Pvt. Ltd is a well-known security systems integrator dealing with high-tech video door phone systems integrated with the latest features to help secure your loved ones at home.  
Fix an appointment today and install VDP at your home and office.