CCTV Cameras
A CCTV security system stands for Closed Circuit Television. This system consists of video devices placed at strategic points. The system captures video footage and transmits it to a display unit usually a monitor or TV and is also linked to a recording device for storage and playback of that footage at a later date.
A CCTV security system thus includes all aspects and components such as the camera/s, wiring, video footage storage (via the cloud or digital video recorder), monitor/s, and access control system.
The need for surveillance of the property, business premises, and personnel either at the location or from a remote location is possible by installing a CCTV security surveillance system.
You can take control of key areas which hold valuable equipment, goods, products, or data information. Through this, you can know who has had access to these areas and take the required action.
Intelligent and A.I-powered CCTV security systems have the power to notify you of any movement at unspecified times and can alert you of potential intruders and threats to the property.
In many cases, installing a CCTV security system at homes and offices has helped the Police and other crime investigation officers track the offenders and bring them to justice.
Types of CCTV security systems:
There are two types of CCTV security systems.  They are
Analog CCTV security systems.
IP Camera CCTV security systems.
In simple terms, Analog cameras capture videos as analog signals and send them over a coaxial cable to a DVR (Digital Video Recorder)
The DVR converts analog signal video to a digital signal, compresses the video file, and stores it on a hard drive (HDD) as a backup.
We can view the video on a monitor linked to the DVR. Connecting the DVR to a router and modem helps broadcast the image over the internet for remote access.
Digital security cameras are IP-based CCTV security systems that capture the videos using a digital signal. A coaxial cable transmits the signal to a DVR and wirelessly to an NVR (Network Video Recorder) which stores the videos on a hard disk.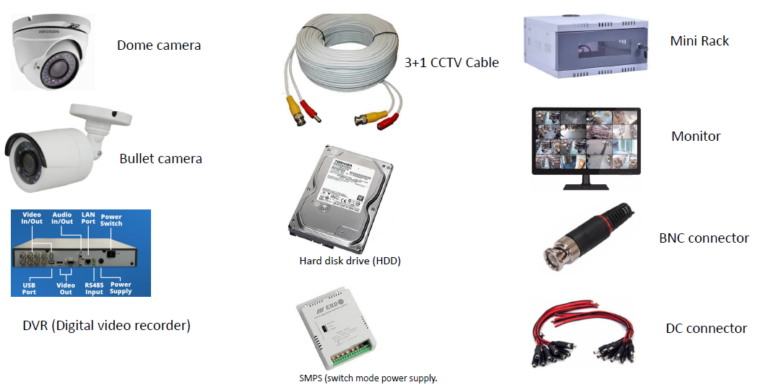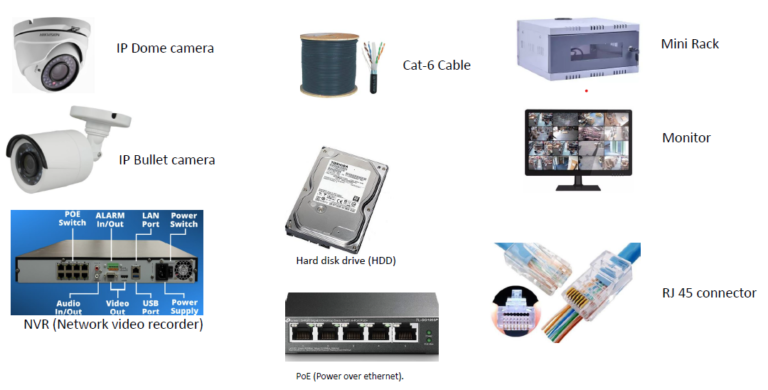 Where do we install CCTV Cameras?
CCTV Cameras for Homes
Red Circute India Pvt. Ltd specializes in CCTV Camera installations in and around Bengaluru.  There is no compromise in our installation services be it a home, office, commercial or industrial project.  Our happy customers have recommended us to many other customers who are happy with our services.  Quick resolution of issues has made us a quality service provider in this segment.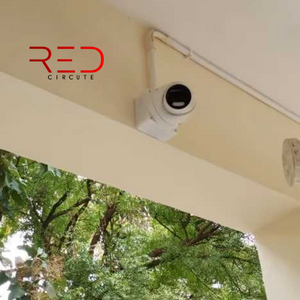 CCTV Cameras for Workplaces
As an employer, you need to provide a very good place for your employees.  A safe and secure workplace instills confidence and boosts the productivity of your employees.  We are aware that you work during the day and we cannot use your facility to install, maintain, and service your CCTVs.  To aid you in this process, we work during the night so that work is not hampered during the day and your employees are not bothered by our presence.
CCTV Cameras for Commercial Businesses
CCTV surveillance is now mandatory in commercial business establishments in India.  It helps build the trustworthiness of your establishment and also helps solve a lot of other problems.  Footfall in your commercial establishment can be tracked with sophisticated CCTV cameras.  It also helps deter theft and other untoward incidences.
CCTV installation for Hospital   →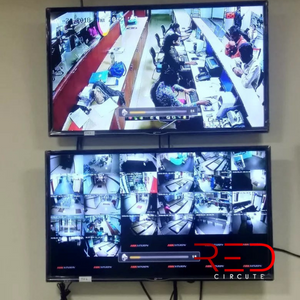 CCTV Cameras for Industrial Enterprises
We survey, design, install and provide quality services to Industrial Enterprises. Our team of experts will help you set up your surveillance in a quick time and establish 24/7 monitoring systems for you.  High-resolution night cameras can capture high-quality images.  You can retrieve the footage at any time and from the comfort of your home through mobile apps.
CCTV Cameras for Government Projects
Providing 24/7 security and surveillance is the center of our existence. Installing high-resolution CCTV cameras in public places will the ensure safety of the public.  It also helps law enforcement agencies to nab any culprits. Our team of experts has worked on various Government projects by installing CCTV Cameras at various parks in Bengaluru.
Why choose Red Circute India Pvt Ltd?
Years of experience
Unmatched quality of products and service
Timely and satisfactory customer service
Remote resolution of issues where feasible
Budget friendly
Where do you want us to install CCTV Cameras?
The best security solution for your business or house depends on you. If you are still confused and not clear about which security system is the best for your business or house, we at Red Circute India Pvt. Ltd offers a free consultation to survey and audit your premises, assess your requirements, and provide the best solution that is necessary to secure your premises, belongings, and loved ones.
Fix an appointment today and install CCTV Cameras.