Access Control Systems
Access control refers to the selective restriction of access to a place or other resource/s in the physical and digital world. Access management describes this process. The act of accessing may mean consuming, entering, or using data, resource, or premises. Permission given to access a resource refers to authorization.
It is a process of controlling who enters a location or uses a resource/data and the time of this action. A central server records all these information for future reference.
For clarity, we are referring to access control in the physical world and not to access control of networking devices. The main purpose of establishing an access control system is the improved efficiency of business processes and its efficient management.
What is an access control system?
Access control systems are usually electronic security systems that give physical access to a person who may use that facility. To gain access, they use an identifier such as an access card to enter certain restricted areas. The system also maintains a log of who accessed the facility and when and who provided the authorization and thus provides valuable data to the businesses. It also helps tracking of access in and out of the facility.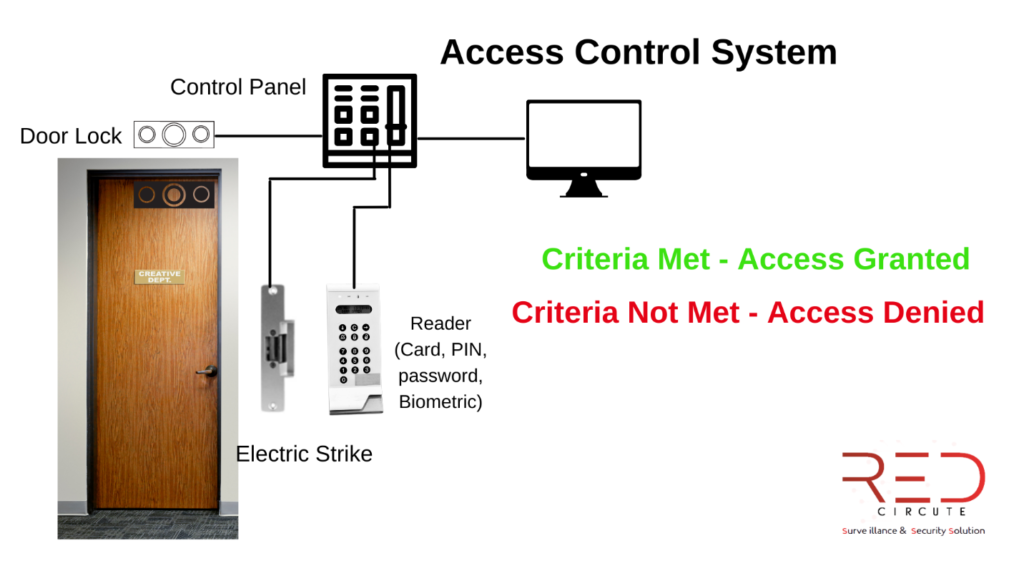 Why use an access control system instead of mechanical keys?
Mechanical keys and lock systems are the simplest form of security to most homes and small business establishments. We still rely on lock and key. But, there are several limitations and dangers of using a lock and key even for a small company. Below are some of the problems presented by using mechanical lock and key.
People lose keys:  Losing a key leads to replacing the lock and keys. Everyone who requires access to that door needs a new key.
No audit trail:  By using a key, you can't see who has entered or at what time unless you have a physical person monitoring that access point.
Difficult to manage:  If a person needs to enter many different areas in a building or facility, carrying keys for each access area will be difficult and it is inconvenient. Remembering the correct key for the lock is a tedious process, and labelling them will lead to security risks.
Need for Electronic Access Control System
The limitations of using mechanical keys can be overcome by the use of an electronic access control system and also you gain much more control of authorizing the access.
It will manage:
Who has access? You may decide who has access to certain areas of the facility. For example, employees may enter into the main workstation but any visitors or contractors can't access the workstation without authorization.
Which doors do they have access to? Not everyone in an organization needs access to all areas within it. You may decide who gets to have access to which doors based on their roles and need.
What times they can gain access? This is particularly important in a large organization with hundreds and thousands of employees, junior staff, housekeeping, etc. In such cases, access is only given to them according to their shift timings and not otherwise.
Under which conditions they're allowed access:  For example, you may set your system to grant access if they meet a certain criteria.
It lets you set these criteria for each individual. And you can update them whenever you need to on a case-to-case basis.
Log details of who has accessed an area and when can help determine the persons involved in case of an incident.
WHY CHOOSE RED CIRCUTE INDIA PVT LTD?
Customized access control systems for your Offices
Quick Installation and ease of use
Feature-packed and modern products for you
Best security solution delivered at a competitive price
Trusted by our loyal customers
Timely and satisfactory customer service
FREE consultation and budget friendly package
Fix an appointment for a FREE Consultation
No more fear of unauthorized access. You can leverage the best-in-class access control system available in the market and control your surroundings. We are here to help make your surroundings and work place a better place to live and thrive.
Click on the button to fix your appointment with us today.