Home Automation and Security Systems
Home automation refers to controlling all electronic devices in your home automatically.  Advances in technology and widespread use of the internet have enabled these devices to connect to the internet and be controlled remotely. 
Smart devices can trigger one another and hence there is no need to control them manually.  Home automation has made life more convenient and also saves you a lot of money on electricity bills, heating, cooling, and providing you security.
Home automation along with the Internet of Things can do wonders for your home.
Home automation consists of a network of devices that are connected to the Internet.  They use different communication protocols like Wi-Fi, Bluetooth, ZigBee, and others.
The devices are managed and controlled through an electronic interface either a mobile app or voice assistants like Alexa, Google Assistant, and Siri.
Three levels of Home automation:
Monitoring: You can monitor your devices remotely and check in on their performance.  For example, a CCTV camera life feed can be viewed remotely from a far-off place.
Control: You can control these devices remotely and make them perform certain actions as desired.  For example, a CCTV camera can be controlled to zoom in on the environment it monitors for greater visibility.
Automation: Here, smart devices are programmed to set on and off other devices.  For example, an intruder alert system upon sensing an intruder can trigger a siren or other notification device to alert the homeowners of an intruder.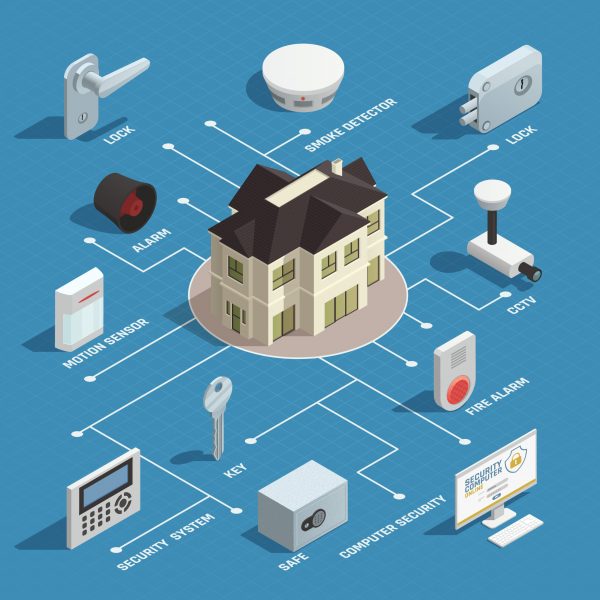 Remote Control
All devices used in Home Automation are controlled through a remote. This is the hallmark of home automation. This is achieved either through a mobile application or through a voice assistant device.
Mobile Apps: Mobile apps allow you to monitor, control, and automate their smart devices. The entire working of a device can be handled on the mobile app. Home automation devices have apps for both Android and iOS devices.
Voice Assistants: With voice assistants, you can use your voice to control devices. You can literally control all your smart devices through your voice. From relying images from your Video Door Phone to your mobile or any Video device, or opening your garage door as you start your vehicle, it lets you control any smart device.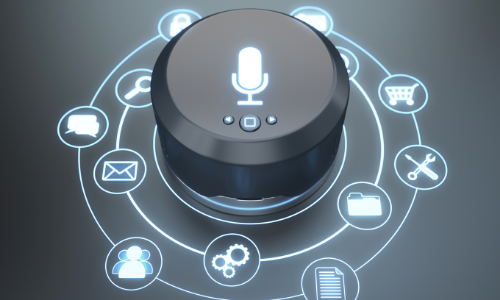 Control Protocols for Smart Devices:
There has to be a way all the smart devices can communicate with each other.  Though they are linked to the Internet, they need a common protocol to communicate.  Below are some of the control protocols these devices use.
WiFi: WiFi is by far the most commonly used control protocol.  Your smart devices connect to the internet by WiFi.  Care must be taken not to overburden by connecting too many devices at once.
Z-Wave: This technology does not interfere with WiFi signals.  It is widely used in US and Canada and operates at low power. It works on mesh technology.
ZigBee: ZigBee is also a mesh network and a universal protocol that lets smart devices communicate.
Thread: This is another low-power, wireless mesh networking protocol.  It is based on the IP address open standard. It lets smart devices connect locally and on the cloud too.
Bluetooth: Bluetooth is another mesh technology that lets you control and monitor your smart devices.
Smart Home Devices
Here are some of the most commonly used smart home devices.
Smart Speakers
Smart TVs
Smart Thermostats
Smart Plugs
Light Automation
Video Door Bells
Robot Vacuums
Smart Kitchens
Though you need to cook your food now, you can be assisted by a lot of devices in your smart kitchens.
Smart Refrigerators
Smart Ovens
Smart Dishwashers
Smart Slow Cookers
Smart Coffee Pot
More Smart Options
Smart Fans
Smart Floors
Smart Shades
Automated Sprinklers
Smart Pool
Smart Beds
Home Automation Security Systems: (Our Expertise)
Video Door Phone
Secure Door Locks
Intrusion Alarm System
Burglar Alarm System
Smoke or Fire Alarm System
Video Surveillance Camera / CCTV System
Perimeter or Compound Security
We have expertise in providing home automation security systems. We install CCTV cameras and enable remote viewing capabilities for you. We also install Video Door Phones, Secure Door Locks, Intrusion Alarm Systems, Fire Alarm systems, and Perimeter Security.
We are a highly recommended Systems Integrator in Bengaluru catering to the needs of the public and businesses.
Below are the images of Red Circute India Pvt Ltd having installed Video Door Phone, Fire Alarm System, CCTV Camera, Secure Door Lock.
Why choose Red Circute India Pvt. Ltd?
Expertise in installing security systems.
Expertise in integrating different systems.
Installing the best products for you.
No hidden costs.
Excellent customer support.
Budget friendly.
Free consultation.
Want to convert your home into a Smart Home with automation?
From controlling your smart devices through mobile apps and voice assistant, home automation can make your life more convenient.
With the addition of security systems and integrating them to your Home Automation, you can be rest assured that you and your loved ones are secure.
Fix an appointment now to convert your home into a Smart Home.